*** Tuesday 3/28 HS Track at Dakota has been cancelled. HS Baseball at Westminster Christian is on as of 11:15. ***

*** Monday 3/27 HS Baseball at Winnebago has been cancelled. ***

*** We have added a HS Track Meet for next Tuesday at Dakota HS 4:15 ***

*** Friday 3/24 HS Baseball home vs Round Lake 4:30. Yes this game has been moved to AH. HS Softball at Harvard JV Lions Park 4:30 start. ***

*** Thursday 3/23 Baseball and Softball are both on for today!! Baseball is home vs. CLA @ 4:30. Softball is away at CLA they are playing at Melas Park 1500 W Central Rd. Mt. Prospect, IL. 60056 @ 4:30. ***

AHMS Honor Roll Announcement: Congratulations to our 3rd Quarter Middle School Honor Roll and High Honor Roll students. Your dedication to your school work makes us very proud of you all! Keep up the great work!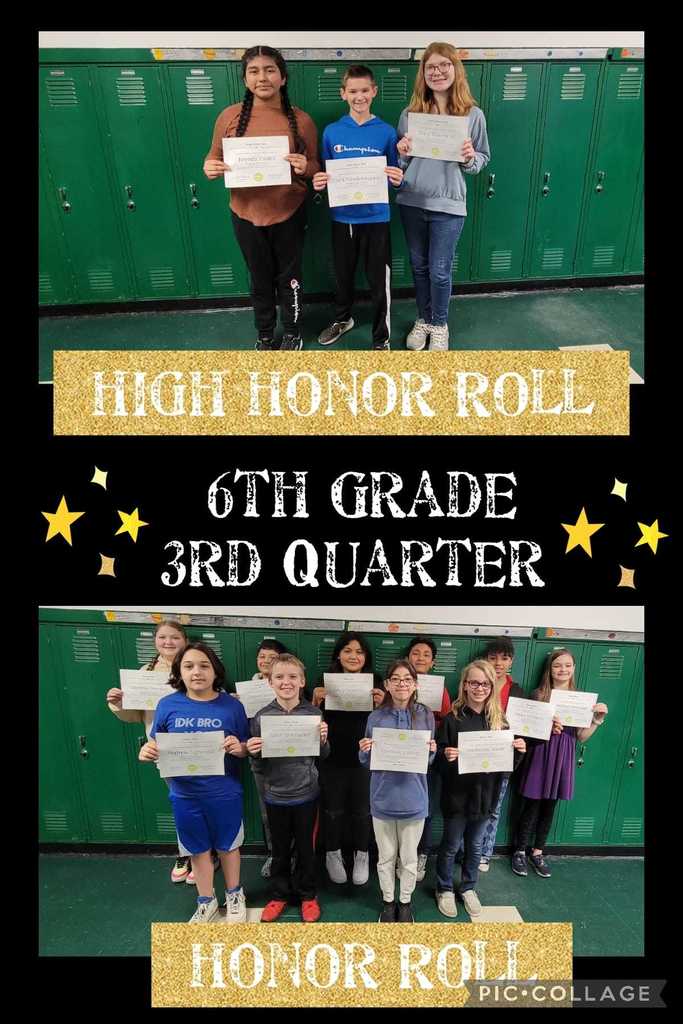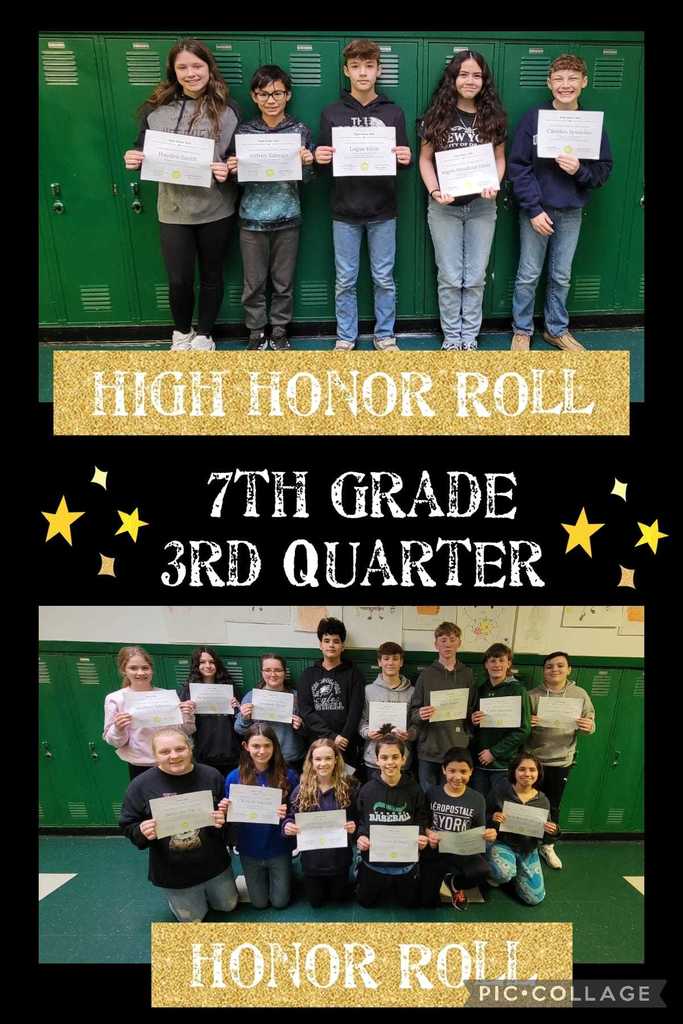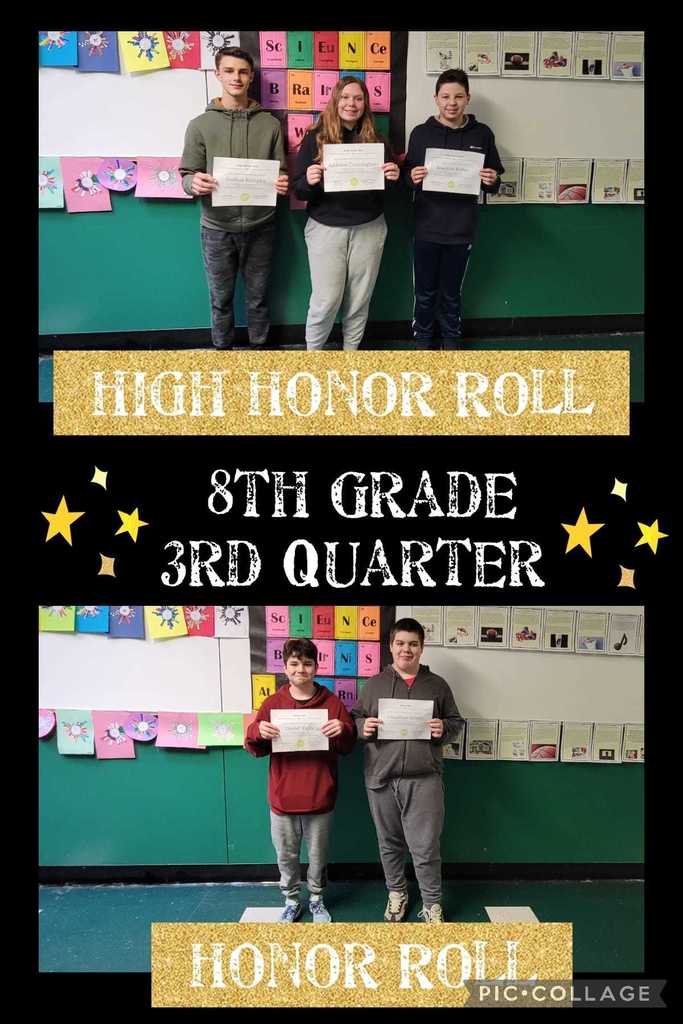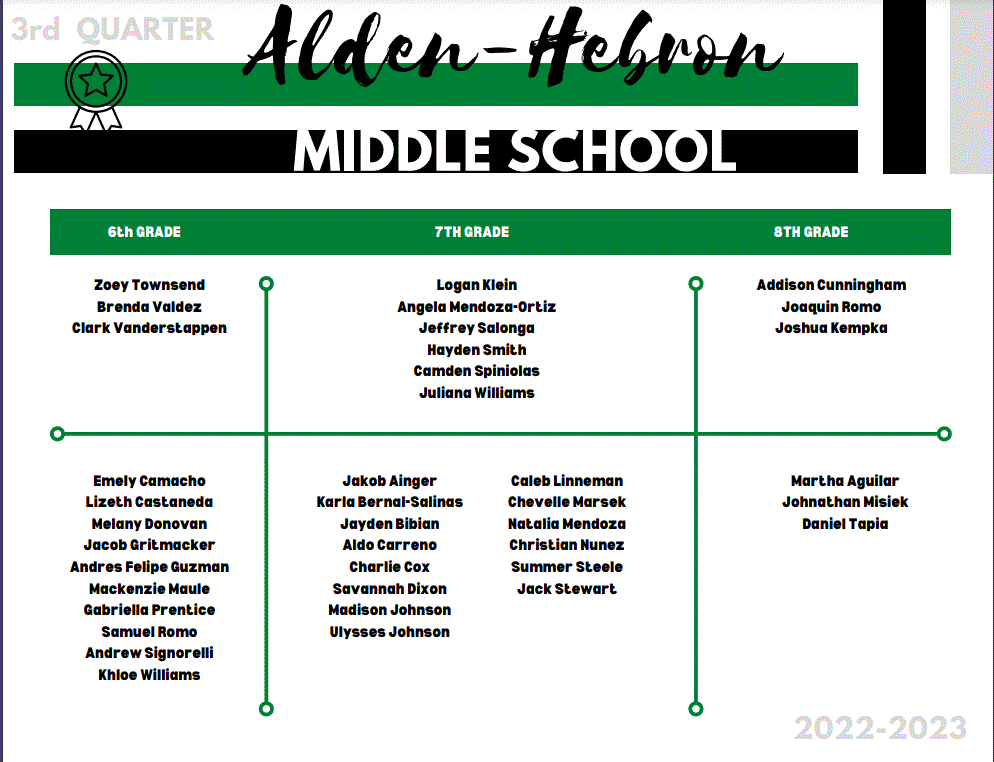 *** Wednesday 3/22 HS Track at Round Lake 800 High School Dr. Round Lake, IL. 60073 4:30 start. ***

SAVE THE DATE ----AHHS Students Invited! WHAT: Huntley High School IACAC Regional College Fair WHEN: Wednesday, April 19, 2023, 6 to 8 pm WHERE: Huntley High School, East Gym 13719 Harmony Rd Huntley, IL LINKS: Strive Scan:
https://app.strivescan.com/registration
This is a student registration for information. It is not necessary to fill out before you attend but will be VERY helpful. When the student fills this out they will get a bar code. NO ONE sees the bar code information except the college that the student chooses to share it with. If they want a college to have their contact information, they simply show them the bar code. The student will ALSO receive a report the next day which will include information about the colleges they shared their bar code with.
https://app.strivescan.com/registration
Colleges Attending:
https://sites.google.com/district158.org/collegecareer/home/college-fair?authuser=0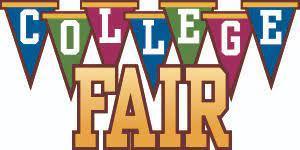 *** Tuesday 3/21 HS Baseball is on at Schaumburg Christian 4:30 start. Located at Hanover Park 1200 Sycamore Ave 60133.***

LCTC UPDATE: Dear Parents of LCTC Students, Tech Campus just reported that there is no power. Students on the bus will be returning back to school. LCTC students will report to the auditorium and use Schoology to remote log into E-Learning.

*** I want to remind all parents if your child has not participated in a fall or winter sport, and you do not have the Team App yet, please request from your spring coach to be added on the Team App so you receive all updates as far as practice changes or game changes. Spring sports have more last minute changes than any other sports mainly caused by weather issues. The Team App is a great way to get last second updates along with checking the live feed on the web-site. ***

*** Monday 3/20 Wrestlers if you are planning on wrestling this Sunday at Harvard in the Harvard Chevy Classic please get entered right away if you already have not done so. As of this morning there were only 15 spots left !! Go to harvardwrestling.com to register for the tournament. Remember we will be having two practices this week Tuesday and Thursday 5:00-7:00. Middle School Track practice starts this week with a meeting tonight after school in the HS auditorium. Practices will run right after school until 4:45 at the grade school most of the time. Coaches will inform you of any changes. ***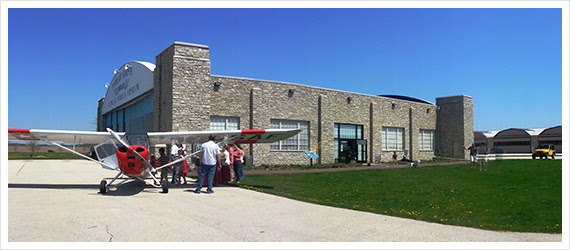 On Monday, Middle School students will begin their IAR assessment. It is important for students to come well-rested, have computers charged, and bring headphones/earbuds. We know students will put forth their best effort and do great!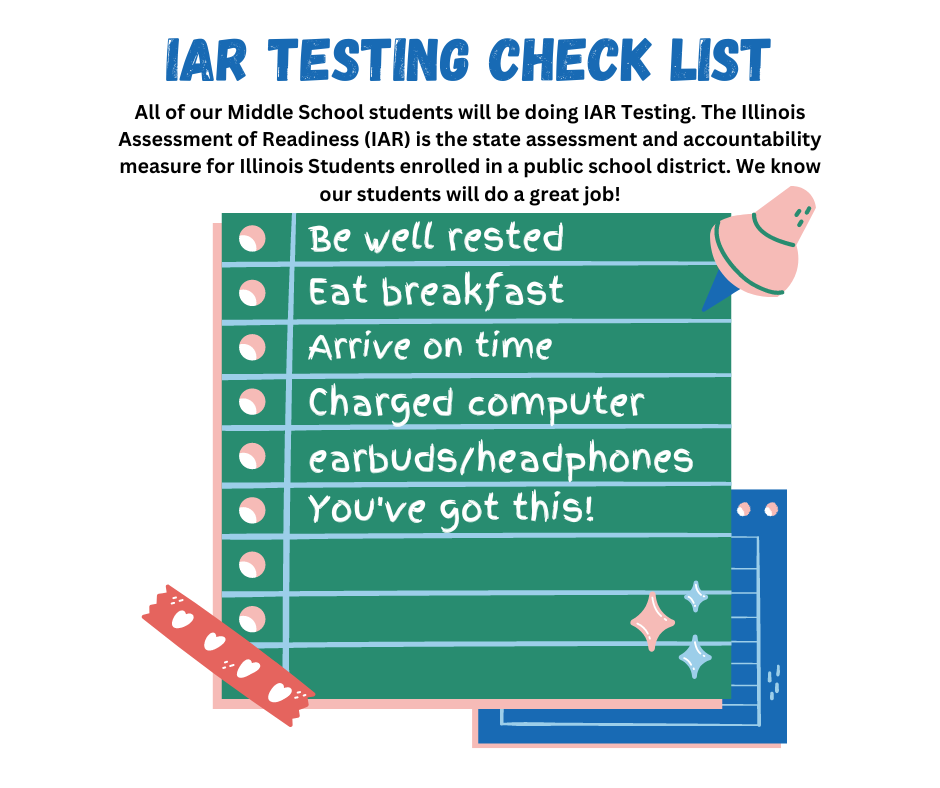 Alden-Hebron District 19 Preschool Screening for the 2023-2024 school year is Wednesday, April 19th from 7:30 am to 6:00 pm by appointment only. Please see attached flyer for more information.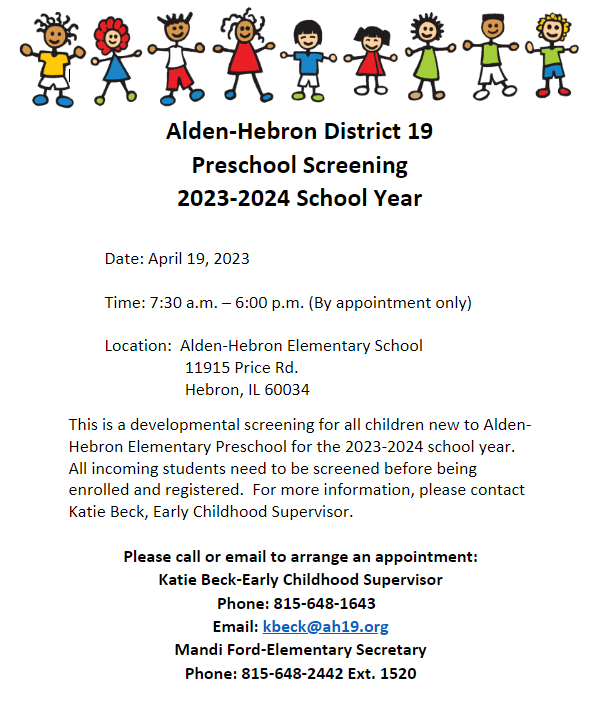 IMPORTANT UPDATE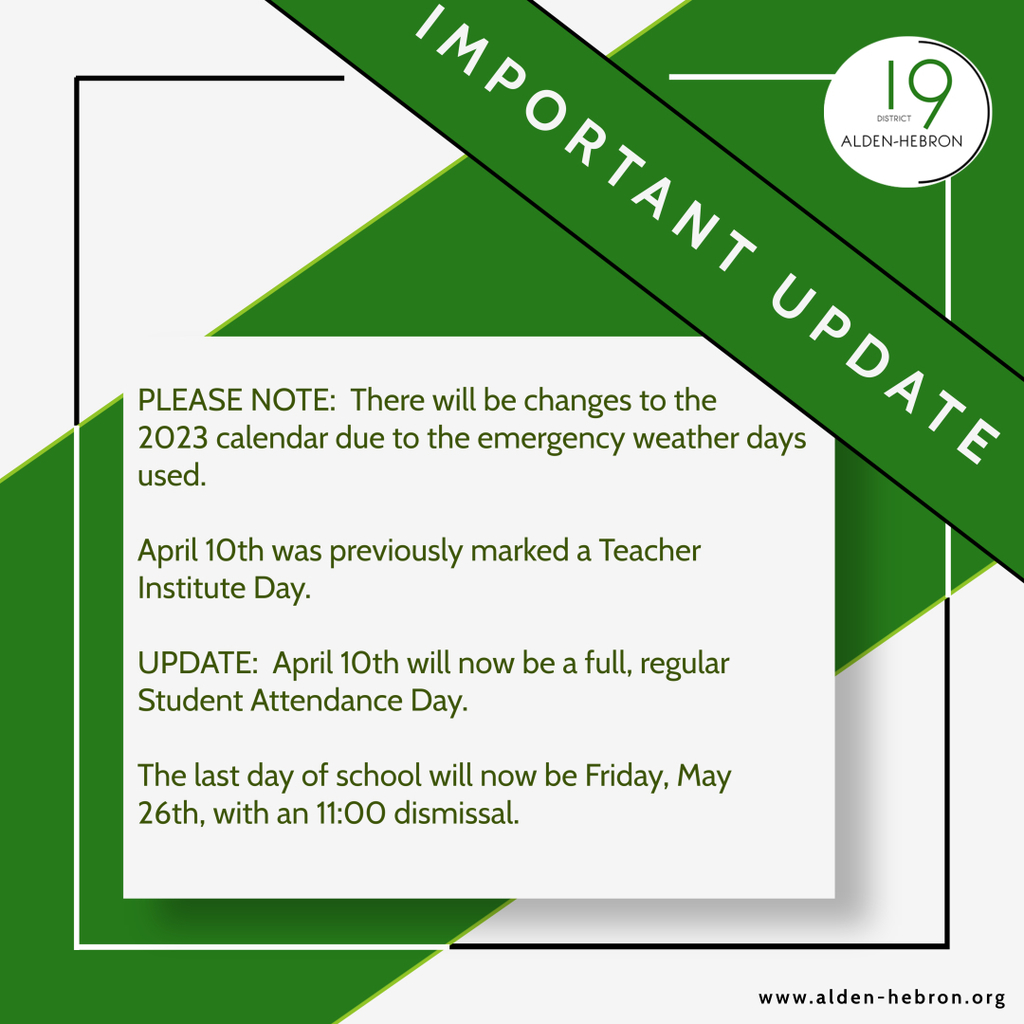 Congratulations to both Jack Stewart and Caleb Linneman they both wrestled really hard and represented the school and community in a great way this past weekend at the IESA State Tournament! Caleb finished 6th in the State. Great job you guys we are proud of you!! -Coach Lalor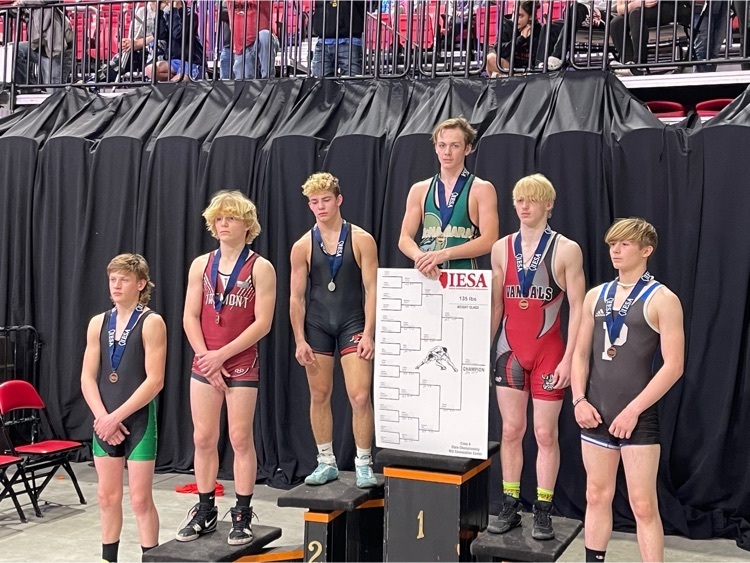 *** Monday 3/13 Baseball / Softball Fundraiser Dinner out at Crandall's starting at 4:00. If you didn't get tickets from one of the players no worries, tickets are also available at the door. ***

Don'tforget: Clothing Drive in on March 18th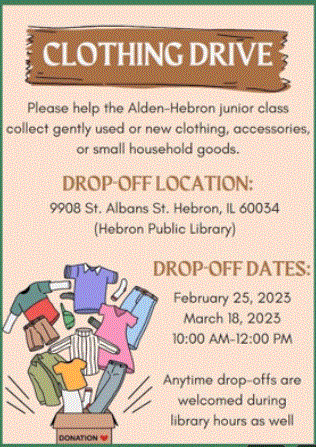 AHHS: Don't Miss Out! Tickets are Available in the AHHS office.